Registration for this workshop is now closed.
Workshop Details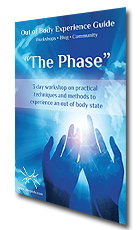 Discover The Phase in a 3-day workshop on practical techniques and methods to experience an out-of-body state, lucid dreaming, or astral projection (The Phase) developed by author and researcher of the phenomenon Michael Raduga
Learn how to enter control and use the phase state for applied purposes.
On average, 50-70% of participants successfully enter the phase from 1 to 6 times during the 3 days of the workshop.
Who is this workshop for
For those who want to experience an Out-of-Body state/Lucid Dreaming/Astral Projection and do it fast
For those who seek practical knowledge rather than philosophical or theoretical discussion on the nature of the phenomenon
What are you going to learn
Learn effective methods and techniques to enter The Phase (OBE, Lucid Dreaming, Astral Projection)
Learn to manage The Phase state, deepen, maintain, etc.
Learn practical application of The Phase state:

Traveling the world, space and time
Finding the information
Powerful self-healing techniques
Contacting deceased relatives or friends
Workshop Program
Day 1
General information on the phenomenon of the phase states (out-of-body experience, lucid dream), the easiest method and general information on indirect techniques, methods and algorithm for entering the phase; guided practical exercises for home practice.
Day 2
Sharing and analyzing attempts made between classes. Managing techniques: deepening the phase, maintaining the phase, controlling the phase space. Special techniques: creation of eye sight, emergency exits. Non-autonomous methods for entering the phase;
Day 3
Sharing and analyzing attempts made between classes. Direct techniques for entering the phase. Learning to analyze. Fundamental practical applications of the phase (using the simulation effect in the phase, obtain information and influence one's physiology). Strategies for independent action.
Workshop Preparation
It will significantly improve your chances of success if you do the following preparation for the workshop:
You can get a free ebook version at the Download page or Visit Michael's site to download or order a printed copy.
Printed copies of the book will be available for purchase at the workshop.
Learn more about the Phase and about School of Out-of-Body Travel training system.
To get the most out of the workshop
NOTE: This is not obligatory however advisable
Participants should be able to attend all three session of the workshop
Participants should be able to go to sleep no later than midnight on Friday and Saturday.
Participants should be able to sleep until about 8-9 am on Saturday and Sunday (to complete home practice)